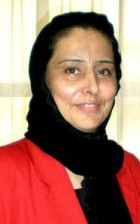 Hamida Barmaki was born in Kabul on 4 January 1970. After attending Ariana High School in Kabul (1977–1987) she studied law at the Faculty of Law and Political Science of Kabul University and graduated in 1990. Her excellent results enabled her to become one of the first Afghan women to follow a career in the judicial system of Afghanistan. She successfully completed her master's degree in the field of development, innovation, and changed from the University of Bologna, Italy. Hamida Barmaki was fluent in Dari, Pashto, Arabic, and English. On Friday 28 January 2011 Hamida Barmaki with her husband and her four children were killed together in a suicide attack in Kabul.
Hamida Barmaki's main area of interest as an academic was the fundamental issues of civil law. She was one of the few Afghan lawyers who had studied in depth both the Islamic and the Romano-Germanic sources of law. Her works include numerous journal articles and books in national and international languages.
Beside her academic career, Hamida Barmaki was actively concerned with human rights from an early age. Already as a young broadcaster with Radio Television Afghanistan (1985–1987) she developed a special interest in women's rights. In the middle of the Civil War she wrote an essay on "Women's Role in the Social Reconstruction of Afghanistan" (Afghanistan-i-Fardah Booklet, 1993). She combined her academic work with a non-violent, strenuous political struggle to promote the rights of the most vulnerable in Afghan society. After the fall of the Taliban regime she could work in public and was immediately appointed to important positions. She served as a member of the Women's Council of Kabul University, as a representative in the Emergency Loya Jirga (2002) and the Peace Jirga (2009). She founded her own human rights organization, "Khorasan Legal Service Organization", in 2009. KLSO mainly aimed at raising citizens' awareness of their rights and providing free legal assistance to women and other marginalized groups.
From March 2008 until her death, Hamida Barmaki worked as Country Representative of the Max Planck Institute for Comparative Public Law and International Law (MPIL). Together with an Afghan-German team of researchers she initiated and implemented projects aimed at modernizing the judicial institutions of the country, especially the Afghan Supreme Court, developing an academic culture in legal sciences on an international level, and improving the existing legislation.
Besides, Hamida Barmaki worked as Project Coordinator of the French Institut International Pour les Etudes Comparatives (2008-2009), Head of the Law and Political Sciences Department at the National Center for Policy Research of Kabul University (2006–2008), Legal Advisor to the Afghanistan Research and Evaluation Unit (AREU) (2006), Director of the Women's Islamic Rights Awareness Program of The Asia Foundation (2004), Program Manager of the Afghan Women Lawyers' Council (2003–2004), Member of the UNIFEM Gender and Law Commission (2003–2004).
In 2009 Hamida Barmaki was appointed Child Rights Commissioner of the Afghan Independent Human Rights Commission (AIHRC) while keeping her responsibilities with the Max Planck Institute. Through her new position she gained not only a nationwide but an international reputation. Hamida Barmaki was deeply concerned about the vulnerability of children in war-torn Afghanistan; she travelled to many provinces to consult with AIHRC staff and investigate cases, commissioned research and openly criticized the government. One of the results was a study on child abuse that indicated rising numbers. Immediately after its publication, Hamida Barmaki initiated a MPIL-AIHRC seminar on women and children's rights. Meanwhile, her struggle against the recruitment of minors by the Afghan security force where many of them are abused and the practice of "Bachabazi", a form of sexual slavery of boys, was just becoming effective. A respective agreement between representatives of the Afghan state and the United Nations was planned to be signed one day after her killing. Hamida Barmaki was also concerned about child marriage.
Together with civil society activists, academics and lawyers from state institutions she had developed marriage forms and other tools aiming at a better protection of minor girls. Hamida Barmaki also took a clear position in the ongoing discussion on the relevance of customary law in the justice system of Afghanistan. Based upon her experience with many human rights cases she strongly advocated a modern, Western-style court system as had existed until the Afghan civil war.